Evidence that Vitamin C Saves up to 621,000 Lives from Heart Disease Alone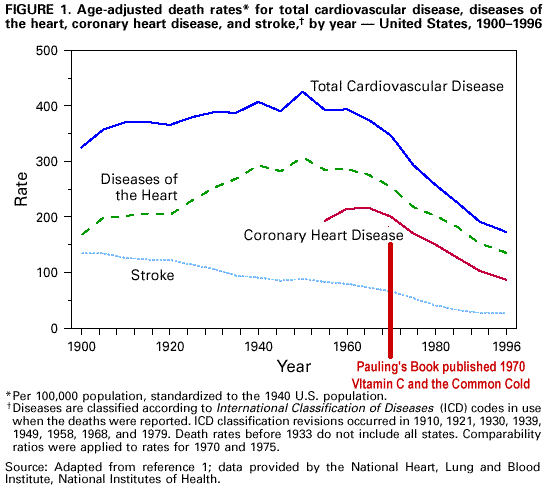 Decline in Heart Disease Mortality Well Documented
Decline in Deaths from Heart Disease and Stroke - United States, 1900-1999
With vitamin C consumption already on the rise, after Nobelist Linus Pauling's book on Vitamin C was published in 1970, the Linus Pauling Institute reports (and www.quackwatch.com confirms), that average vitamin C consumption in the US increased 300%! (According to a biography (Pauling in His Own Words) Pauling wrote his 1970 lay book because of the false information about vitamin C, and other vitamins, being disseminated by so-called Medical "authorities" through the Media at that time.)
As the above chart and data indicate, total CVD mortality peaked between 1950 and 1970, with coronary disease peaking close to 1970. However, during the decade of the 1970s, deaths from Coronary Heart Disease began a steep decline. We attribute this staggering 30%-40% decline to Pauling's book.
The United States was the only developed country to experience such a decline. This is not a statistical fluke.
We believe these facts are connected and not merely coincidental. The decline in heart disease, matched with the increase awareness and intake of Vitamin C, strongly supports the Pauling/Rath Unified Theory.
A competing hypothesis must explain how and why the decline begins between 1950 and 1970.) Note: Other popular authors, such as Adelle Davis, brought the importance of vitamin C to the public's attention during the 1950s and 1960s.
Therefore, based on our understanding of the Linus Pauling/Matthias Rath Unified Theory of Heart Disease, we believe that Pauling's book should be credited with saving AT LEAST 250,000 lives annually, and perhaps a majority of the 621,000 deaths that would otherwise have been expected in 1999.
According to Pauling on Page 164 of his book How To Live Longer and Feel Better written in 1986, "741,000 people died of Coronary Heart Disease in 1970." Today, with a much larger population, according to the American Heart Association, between 400,000 and 500,000 Americans will die of Coronary Heart Disease, the Nation's number one killer.
WE ATTRIBUTE THIS DECLINE TO LINUS PAULING'S PUBLICATION OF THE VAST EVIDENCE ABOUT VITAMIN C AND OTHER NUTRIENT ANTI-OXIDANTS IN 1970 AND THEN AGAIN IN 1986. PAULING'S 1992 VIDEO HAS THE POTENTIAL TO IRRADICATE HEART DISEASE FROM PLANET EARTH IF WIDELY VIEWED AND UNDERSTOOD.
Copyright Owen Fonorow, 2001